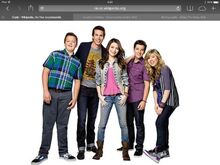 iCarly is the fourth series created by Dan Schneider for Nickelodeon. Schneider originally wanted to make a new TV series starring Miranda Cosgrove; the original idea was that she play a normal girl who, in a twist of fate, gets cast to star in her favorite TV show, Starstruck. However, during a casual meeting in his den with his wife and his friend Steve, Schneider decided that it would be much better if Carly had her own show – a show she could run herself, the way she wanted, and do whatever she wanted to do which would become a web show. In November 2006, Schneider threw out his Starstruck script and wrote a brand new pilot called iCarly during December. The pilot was shot in January 2007.[1]
During production of Zoey 101, Schneider came up with the idea of the show and its name with his friend and producer of The Big Bang Theory, Steve Molaro. He was trying to think of a good title for the new series about kids who start their own web show. The pilot script followed the lead girl's name was "Sam" but the URL for iSam was already taken. Schneider tried other girl's names and bought the URL for iJosie, but later switched to iCarly and loved the name for the lead character. The names of the two lead girls were then changed from Sam and Kira to Carly and Sam.[2]
Plot
When Carly and her sassy best friend Sam act funny at a school talent show audition, tech-savvy Freddie tapes it and posts it online without telling them. After seeing the girls' strong chemistry and banter, the online audience clamors for more and the iCarly webcast is born. While grappling with typical issues of adolescence, Carly, Sam, and Freddie find out that they have also become online celebrities as their show – which features talent contests, recipes, problem-solving, and random dancing – garners international accolades.
Carly lives in Seattle, Washington with her 26-year-old brother and guardian Spencer and produces the show in a makeshift third-floor studio loft in their apartment. Their father, Steven Shay, is a U.S. Air Force officer stationed on a submarine, and is often mentioned and is only seen in person during the series' finale episode, "iGoodbye".
Exterior shots of the Shays' apartment building, Bushwell Plaza, are digitally altered images of the Eastern Columbia Building in Los Angeles.[citation needed]